Third talk "Enhancing Efforts: Insights on Changes and Demand of Healthcare through Nephrology" in Subject talks on Centred on People : Specialist Healthcare Services and Everyday Life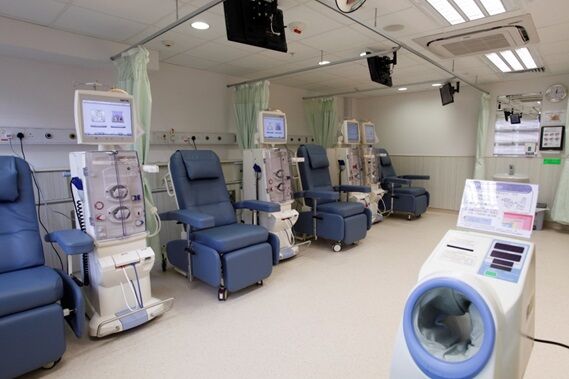 Co-organised by TWGHs Records and Heritage Office and Hong Kong Public Libraries
Subject talks on "Centred on People : Specialist Healthcare Services and Everyday Life"
After the end of the Second World War, Hong Kong was in desperate need of reconstruction, and healthcare facilities became inadequate as the population surged. This prompted the government to provide subsidies to voluntary healthcare institutions in a bid to ensure the provision of healthcare services in Hong Kong. By the 1960s, society had become more stable. In response to public demand for healthcare services, the government began to lay down long-term healthcare policies set out to improve the healthcare system, expand basic healthcare services and develop specialist healthcare.

As a long-term partner of the government, the Tung Wah Group of Hospitals has developed diversified healthcare services in line with the government's public health policies since the 1960s. The initiatives included expansion or redevelopment works carried out in Tung Wah hospitals to increase service space and improve the quality of healthcare services. Meanwhile, the development of specialist services is also an important part of Tung Wah's healthcare policy. In this talk series, healthcare professionals will examine the development of specialist healthcare, such as Emergency Medicine, Obstetrics, and Medicine and Geriatrics, as well as its relationship with social development and people's everyday lives.
Third talk:"Ehancing Efforts: Insights on Changes and Demand of Healthcare through Nephrology"
Keeping abreast of social progress and changing public demand for healthcare, hospitals constantly upgrade their services. The Department of Medicine and Geriatrics of Kwong Wah Hospital comprises a number of specialist units, including Cardiology, Geriatrics Medicine, Nephrology, Endocrinology, Diabetes and Metabolism, Respiratory Medicine, Gastroenterology & Hepatology, Rheumatology and Neurology, along with Infectious Diseases, Medical Oncology and Palliative Care added in recent years. In specialist healthcare, Medicine and Geriatrics is the most closely related to people's livelihood.
Take Nephrology as an example: all patients suffering from renal failure require lifelong treatment. In 1981, Kwong Wah Hospital began providing haemodialysis treatment with a few hospital beds in a small area; today, the hospital houses a renal centre offering treatment and out-patient services. For decades, the hospital's renal care team has helped patients with long-term health conditions improve their ability to care for themselves and maintain their quality of life, hoping that they can return to the community and continue with their everyday lives. In this talk, the two guest speakers will illustrate the development of the Department of Medicine and Geriatrics of Kwong Wah Hospital, with emphases on the development of Nephrology, the importance of "co-operation between doctors and nurses" in specialist healthcare development, as well as the people and events they have encountered at work.
Venue:

G/F, Lecture Theatre, Hong Kong Central Library

Date/Time:

Saturday, November 11, 2023 2:30 PM to 4:30 PM

Speaker:

Dr MAK Siu-ka (Consultant of Department of Medicine and Geriatrics of Kwong Wah Hospital and Chief Medical Executive of TWGHs Haemodialysis Centre) and Ms Shirley TAM (Renal Nurse Consultant (Kwong Wah Hospital) of Kowloon Central Cluster)

Language:

Cantonese

Remarks:

Free admission. People who are interested can register on this webpage or contact us ( Tel: 2770 0867 ) during working hours ( 9:30 a.m. to 6 p.m., except Saturdays, Sundays and Public Holidays) for registration.

Commencement Date of Seat Reservation : 31 October 2023 ( Tuesday )

First-come, first served.