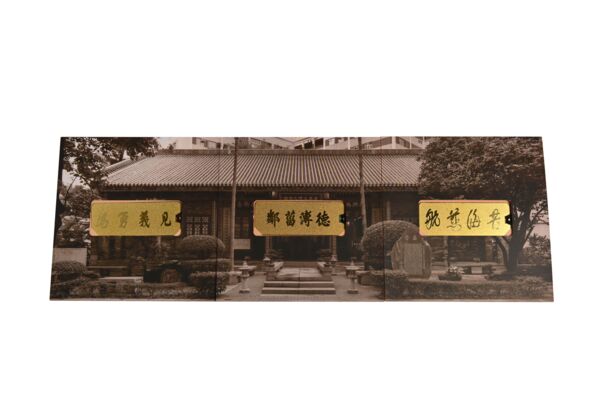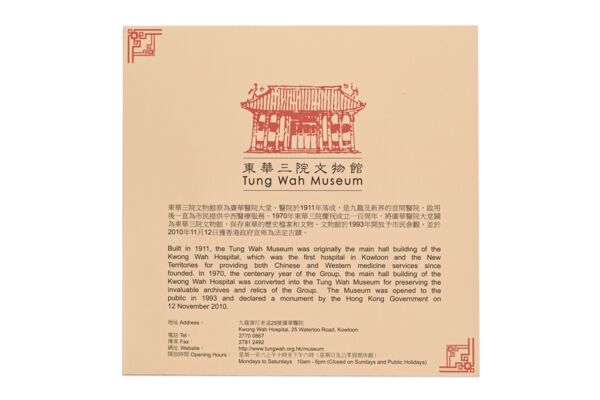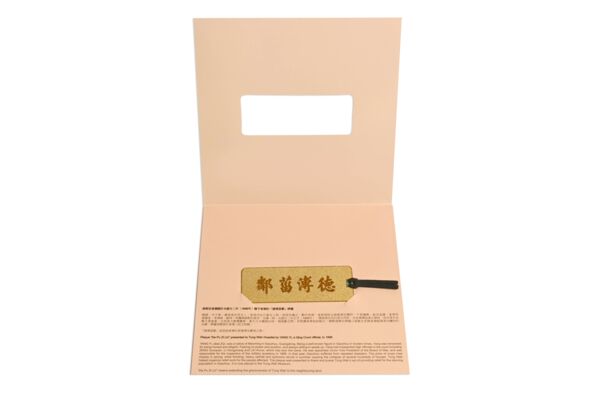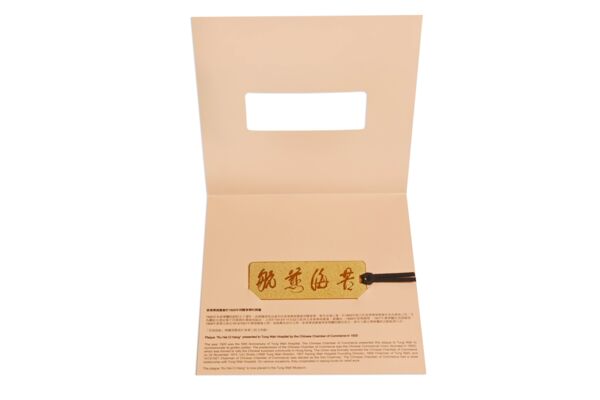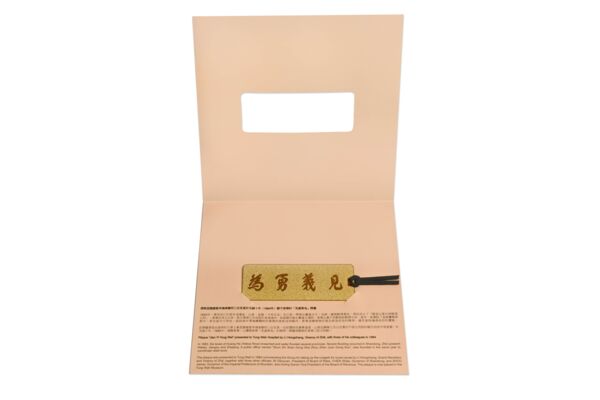 Specially selected 3 plaques which placed in the Tung Wah Museum and replicated as copper bookmark: "Jian Yi Yong Wei", "De Pu Zi Lin" and "Ku Hai Ci Hang".
In 1883, the levee of Huang He (Yellow River) breached and water flooded several provinces. Severe flooding occurred in Shandong, Zhili (present Hebei), Jiangsu and Zhejiang. Plaque "Jian Yi Yong Wei" presented to Tung Wah Hospital by LI Hongzhang, Viceroy of Zhili; BI Daoyuan, President of Board of Rites; CHEN Shijie, Governor of Shandong; and ZHOU Jiamei, Governor of the Imperial Prefecture of Shuntian, also Acting Senior Vice President of the Board of Revenue in 1884 commending the Group for providing relief in the aftermath of the floods.
In 1896, Gaozhou suffered from repeated disasters. The price of crops rose sharply in spring, while flooding, heavy rainfall and typhoons struck in summer causing the collapse of several hundreds of houses. Tung Wah helped organize relief work for the people affected. Plaque "De Pu Zi Lin" presented to Tung Wah Hospital by YANG Yi, a Qing Court official, to thank and praise Tung Wah's act of providing relief for the starving population in Gaozhou. "De Pu Zi Lin" means extending the graciousness of Tung Wah to the neighbouring land.
The year 1920 was the 50th Anniversary of Tung Wah Hospital. The Chinese Chamber of Commerce presented the plaque "Ku Hai Ci Hang" to Tung Wah to commemorate its golden jubilee. The predecessor of the Chinese Chamber of Commerce was the Chinese Commercial Union (founded in 1900), which was formed to rally the Chinese business community in Hong Kong. The Union was formally renamed the Chinese Chamber of Commerce on 22 November 1913. LIU Zhubo (1899 Tung Wah Director; 1907 Kwong Wah Hospital Founding Director; 1909 Chairman of Tung Wah; and 1913/1921 Chairman of Chinese Chamber of Commerce) was elected as the first Chairman. The Chinese Chamber of Commerce had a close relationship with Tung Wah Hospital. On various occasions, they cooperated in raising funds for relief work.
Size
Each copper bookmark: 8cm (W) x 3cm (L)
With packaging: 14.5cm (W) x 14.5cm (L)
Weight
0.08 kg (3 bookmarks in a whole package)
Remarks
*Product colour may slightly vary due to photographic lighting sources or your monitor settings.
*All profits generated from the sales will be allocated to "TWGHs Heritage Fund" to preserve Tung Wah's cultural heritage.